Siobhan at Siobhan's Novelties tagged me, thank you! I'm currently at a really cute cabin hanging out with my friends who all are too good at karaoke (I can honestly not compete with this) and having a great time.
Favourite Shows?
I'm here for this, the whole list is already on my phone.
MR ROBOT!!!
Orphan Black
American gods
Hannibal?? I've talked a lot about it to people recently as something I would never recommend anyone to watch, but I do like it too much.
How to get away with murder
Jessica Jones
Daredevil season 3
Sense8
Favourite Genre?
I guess it's fantasy-ish stuff, I like everything with like genuinely good fight scenes, to the point where I might skim through the plot if it's boring enough (cough, most superhero stuff). I do also really like the psychological thriller/drama tv series though, but it's harder to find good ones.
Least Favourite Show
Siobhan had harsh words for 90 Days Fiance and I completely agree. with her, it's awful.
But – here's a more controversial one. I really hate Friends. My bestfriend and dad was both loving watching it, I couldn't get away and I just don't find it remotely interesting or funny. I've tried so hard, believe me.
Most Re-Watched Show/Favourite Show to Binge Watch?
The first season of Orphan Black! I've made the bestfriend (and dad) mentioned above watch it, sitting through the season with them and it's so satisfying and just so much details you don't get the first time watching it.
I haven't watched the last episodes yet. Like I've been on S5 E7 for so many months, I just can't bring myself to watch the last four episodes.
Do You Prefer Watching Things Week-by-Week or Binge-Watching?
Binge-watching. I know that when I start a season of a tv series, if it's a good one, I'm going to be too drawn in and have no choice. So I don't usually watch too much Netflix, and no TV at all. Just that one weekend when I've finished all important tests and deserve it. Hah, there's been a couple mistakes of course.
Favourite Television Characters?
Jessica Jones, I just love her so much. My biggest pet peeve is when tv series or movies have the characters with the perfect morning/night routines, no matter how much shit is going down. From the moment I saw Jessica Jones just roll out of bed, and go to track down bad guys I was like YESS.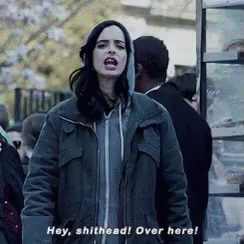 Favourite Television Ships?
I don't usually ship people that hard?
Show You Could Never Get Into?
Many. Friends, of course. The vampire diaries, even though I loved vampire books at the time.
Show You Fell Out of Love with?
Every single one that have more than four seasons, including the beloved Orphan Black.
Cancelled Too Soon?
THEY AREN'T RENEWING THE PUNISHER FOR A THIRD SEASON. WTF IS WRONG WITH THEM. Did they see even see Giorgia Whigham as Amy? And the punisher's fun banter with her? AAHH.
Guilty Pleasure Show?
Like the shows finding the wedding dresses, we're all critiquing the shit out of that like we know anything about fashion. (I really like couture fashion shows in general though, like that new Paolo Sebastian show for SS19? Watched it three times, excellent.)
What Are You Currently Watching?
Nothing, because I haven't had time. See binging problem.
---
I Tag
This tag was so much fun, but I feel I've just tagged people in other things. So if you want to do it, feel free to link to me so I see it!